国章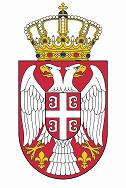 小紋章は、双頭の白鷲、盾、十字架、4つの火打鉄、ネマニッチ朝の王冠で形成されています。





国旗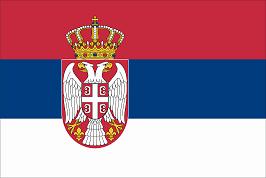 縦を三等分にして三色(上から赤、青、白)、小紋章は中央から横幅7分の1の長さをポール側に寄せた場所に描かれています。







国歌
Bože Pravde (正義の神よ)
作詞:ヨヴァン・ジョルジェヴィッチ 作曲:ダヴォリン・イェンコ  (作成時期:19世紀)
Bože pravde, ti što spase
srpske zemlje, srpski rod!
na svak dičan slavan rad,
Nek na srpskoj blista grani
bratske sloge zlatan plod,
srpske zemlje, srpski rod!
polje, njivu, grad i dom!
srpske zemlje, srpski rod!
※セルビア共和国外務省サイトで視聴できます(下記リンク先、中ほどの矢印をクリック)
http://www.mfa.rs/sr/index.php/republika-srbija/simboli-republike-srbije?lang=lat

英語訳
God of Justice; Thou who saved us
when in deepest bondage cast,
Hear Thy Serbian children's voices,
Be our help as in the past.

With Thy mighty hand sustain us,
Still our rugged pathway trace;
God, our hope; protect and cherish
Serbian lands and Serbian race!

Bind in closest links our kindred
Teach the love that will not fail,
May the loathed fiend of discord
Never in our ranks prevail.

Let the golden fruits of union
Our young tree of freedom grace;
God, our Master! guide and prosper
Serbian lands and Serbian race!

Lord! Avert from us Thy vengeance,
Thunder of Thy dreaded ire;
Bless each Serbian town and hamlet,
Mountain, meadow, heart and spire.

When our host goes forth to battle
Death or victory to embrace-
God of armies! be our leader
Strengthen then the Serbian race!

On our sepulchre of ages
Breaks the resurrection morn,
From the slough of direst slavery
Serbia anew is born.

Through five hundred years of durance
We have knelt before Thy face,
All our kin, O God! deliver,
Thus entreats the Serbian race!